Switch Kit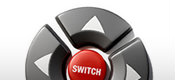 Switching to Kleberg Bank is as easy as 1-2-3!
1. Stop using your old account. You can begin opening a new Kleberg Account while your old account is open. But you can stop using your old account ahead of time. This way, when you do officially close it, all debits and payments will have cleared.
2. Open your Kleberg Bank account. You can initiate opening your account online or in person. A friendly bank representative will do all the work for you. You can even set up your free online banking and bill pay at the same time.
3. Switch any direct deposits or automatic payments. Now that you have your new account and are closing your old account, simply provide the new information.
All finished. You can find some helpful forms for opening your account and switching direct deposits in our Switch Kit.