Secure Email Registration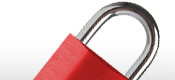 Below are the steps you need to perform in order to register and begin using our complimentary Secure Email service:
1. Email Securemail.Register@klebergbank.com with Register in the subject line.
2. You will receive two emails, the first one is just notifying you that you requested an account to be able to send us secure messages. The second one will have a link to create your account.
3. Click the link to create your account- you will be directed to a web site that will require you to fill out the following information:
a. First Name
b. Last Name
c. New Password
d. Confirmation of the above password
e. Password Hint Phrase
4. Once done, click Continue to enter into the site
5. Anytime you need to send a secure email message to Kleberg Bank you can go to https://securemail.klebergbank.com