Mobile Banking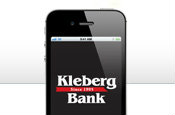 Mobile Deposit

You can now enjoy the ease and convenience of using your iPhone or Android devices to deposit a check from anywhere!

To start using Kleberg Mobile Deposit today, simply follow these easy steps:

Complete the Mobile Deposit Enrollment form at KlebergBank.com/MobileDeposit. You should receive your User ID and Temporary Password via email within 2-3 business days. This may take longer depending on the volume of enrollment requests.
Download the Kleberg Mobile Deposit app for your device from either Apple's App Store or Google Play.

Log into Kleberg Mobile Deposit using the User ID and Temporary Password provided to you and set your own personal password by selecting the information icon at the bottom right of the menu screen.

You're now ready to enjoy the amazing convenience that comes from being able to deposit a check from anywhere!




It's as easy as snapping a photo!

Log into your Kleberg Mobile Deposit app and select the deposit button.

Enter the deposit amount and the account you want to deposit your check to.

Take photos of the front and back of your endorsed check.

Get a confirmation that your deposit has been submitted!

For questions, simply contact our Mobile Deposit Team at Online@KlebergBank.com.

Kleberg Mobile




Kleberg Mobile. It's the perfect way to Bank on the go.




Available for iOS and Android devices, Kleberg Mobile is one of the most comprehensive mobile banking apps in the market. It brings the best features of the New Online Banking, like account activity, account transfers, bill pay, and secure messages all to the palm of your hand and wherever you go.




To start enjoying the convenience that Kleberg Mobile offers, simply follow the two steps listed below:




1. Authorize your User ID for use on mobile devices (Click HERE to download the Kleberg Mobile User Guide)

Log into Online Banking via KlebergBank.com

Select the Mobile option under the Preferences Tab

Under the Mobile Enrollment Tab, select "Yes, enable my User ID and Password for use on my mobile device."

Click Submit

Select the Mobile Authorizations Tab

Enter a Mobile Authorization Code of your choice

Click Submit




2. Download your preferred app




If you have any questions about using Kleberg Mobile, please contact us via email at Online@KlebergBank.com or by calling us at 361-592-8501 (Kingsville) or 361-850-6800 (Corpus Christi).

Mobile Security

Update Your OS and Security Software

Just like your personal computer, your mobile device is susceptible to viruses and malware. That's why it's important to take the following actions to help ensure that your mobile device is secure and safe to use:

Keep Your Operating System and Applications Up-to-Date

In general, your device's application store will keep you aware of any required application updates. You can also proactively check for updates.

For an iPhone® or iPad®, use iTunes on your desktop computer or the settings panel on your phone to check for updates.

For an Android® mobile device, check your device settings for updates.

Watch Out for Malicious Software

Limit your risk of installing malicious software by only downloading trusted applications from an application marketplace or store.

Secure Your Phone and Your Data

Using a password or PIN and encrypting your data can prevent a criminal from taking information if your phone is lost or stolen.

Lock Your Phone

Use a password or PIN to restrict access to your phone, if your mobile device supports it. This makes it more difficult to get into your device.

Encrypt Your Data

If your mobile device supports it, use encryption (Opens pop-up layer) to protect sensitive information. Your device may have a wipe function that can be triggered by password failures. You may also be able to perform a remote wipe in case your phone is stolen or lost.