Remote Deposit Capture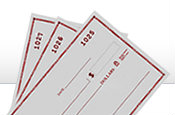 Summary

Save time and enjoy the convenience of making deposits without leaving the office. Remote deposit of checks quickens the availability of funds and streamlines recordkeeping. All while saying good-bye to deposit slips and repeated trips to the bank.

Scan and deposit checks from your office

Eliminate trips to the bank

Make deposits 24/7*

Funds are available faster

Simplify recordkeeping

View our brochure to learn more, or click "Questions" to request an application.