Enhanced Security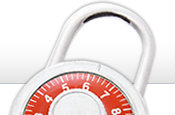 Summary

Sleep peacefully knowing all your company's hard work is protected with our maximum security features. Kleberg Bank can help with fraud protection, network security, and more. Best of all, you reduce paperwork and simplify accounting while enhancing your security.

Learn more about the amazing security that IronKey can bring to your business by visiting the tab above.

IronKey

Trusted Access Anywhere

We're partnering with IronKey, an industry leader in computer security, to provide you with some of the most advanced anti-fraud technology available.

By simply connecting one of our new portable USB security devices to a computer, you can access a secure virtual environment from anywhere. This virtual environment is then able to help protect you from malware attacks that could compromise your private information.

It's the same technology used by some of the most sophisticated entities in the world, so it's not just a secure network connecting that you can carry in your pocket, it's peace of mind.

To find out more information about how IronKey can work for you, please call 361-592-8501 (Kingsville) or 361-850-6800 (Corpus Christi). Or simply click here to view some of our Customers most frequently asked questions.