Personal Finance 101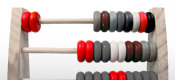 For Students
Getting more serious about your education and personal finances? Be sure to visit our Money Matters for Students website. You will learn more about managing money wisely, from making money to growing and investing money. There are also dozens of personal financial calculators, information about college, the job market, and how to put together a great resume.
For Kids
You can have some major fun while learning some serious lessons. Visit Dollar the Dragon™ and he will take you on a journey filled with games, riddles, and activities. You can learn about money basics that will help you as you grow older. Heck, you'll even learn how money was invented!
Check back here in the near future for more personal finance lessons. A new, more robust program is currently under construction.